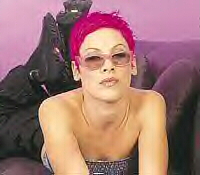 Stage name: P!NK
Real Name: Alecia Moore
Sibling: Jason 22
Age: 20
B-Day: September 8, 1979
Parents Names: Judy & James
Favorite Song on Album: Split Personality
Musical Inspirations: Whitney Houston, Madonna, Mary J. Blige,
Billy Joel and her father
Astrology Sign: Virgo
BIO
Pink is a very young woman with lessons taught, and lessons to teach. "I'm a very extreme person. I went through a lot of phases growing up, and for everyone, I was extreme," says Pink, the new artist to come out of LaFace Records Camp. "From skateboarding to hip-hop child to rave child to a lead singer of a band-I did it all, and all at the same time." The outcome is a "hard core" young woman, ready to face the music industry, and to make it a success.
"I decided at 15 I didn't want to be one of those artists that gets up and sings love songs that they don't mean. I decided that I was going to be me to the fullest extent, that my songs were going to reflect relationships I've had, things I've been through, and even the stuff I'm embarrassed about." This is very true with songs on her new CD like "Split Personality", "You Make Me Sick", and the song that made it happen, "There You Go."
Her dad also gave her inspirations. "My dad always plated guitar and taught me songs by Dylan and McLean," Pink says. His love for music left an emotional scaring scaring on P!NK. But over that years, P!NK did many singing act, and also did singing at a club. She also tried out for a band called "Basic Instinct." "I didn't fit in, but I didn't care. You have to laugh at stuff like that. And anyway, I don't see myself as belonging to any group."
She again tried out for another group called the"Choice" and didn't last long. Soon she met Darryl Simmons, and he asked her to write a song, she did, and that's how her musical career started.